From Vandals to Vanguards, This Exhibition Shows the Evolution of Graffiti Artists
BY BARRY SAMAHA AND CHLOE KANTOR
Article originally published June 21, 2019 on SURFACE
Graffiti art has grown up. This decades-long evolution from vandalism to a respected art form is chronicled in the new behemoth exhibition "Beyond the Streets," which showcases over 1,000 works by 150 artists across two expansive floors at 25 Kent in Williamsburg, Brooklyn. It's a continuation of "Art in the Streets," a blockbuster retrospective that was housed at the Museum of Contemporary Art, Los Angeles in 2011. The brainchild of Roger Gastman, an urban anthropologist and graffiti historian, the show comprehensively visualizes the story arc of street artists who were once considered outliers.
"Artists have gone from the streets into the studios," says Gastman at the show's opening. "The culture had been around for 50-plus years, so the people that were doing it during the '70s, '80s, '90s, and early 2000s are now people of power, working at magazines, other outlets, and different museums. They're able to enjoy what they grew up with, and talked about. The guard has changed."
These days, graffiti has been put into limelight, selling for upwards of seven figures. Decades ago, however, artists including Keith Haring, Jean-Michel Basquiat, Lady Pink, Mike 171 and more were working on the edge, especially in New York. With the city's anti-graffiti laws in place, the practice of using public utilities as canvases—from subway cars to building facades—was (and still is) considered an illicit activity, giving the youths who used spray paint as their medium of choice the reputation of being the dregs of society. Still, they were undeterred. Rebuking the status quo, they embraced graffiti as a means to make their mark in society—in this case, literally.
"We knew we were creating a new culture." Mike 171 says. "You have to understand that back in '68, we had Vietnam going on; we had Nixon as president; Martin Luther King Jr. and Robert Kennedy were assassinated; and my pops died that year. I turned 12, and took to the streets, the underground, the tunnels, to the subways with Steve [Kesoglides]. We were the only white guys in the neighborhood. We were able to express ourselves with colors and squiggly lines."
In fact, many say that it was Kesoglides's squiggly lines that inspired the late Keith Haring, who has become one of the most commercialized artists today, having his figures appear on everything from water bottles to the runways at Paris Fashion Week. It is this entry into the mass market that is the crux of the exhibition, with much of the focus on graffiti's place in the zeitgeist.
"The work in this show is not taken from the street," Gastman says. "It's about the artists who have gone from the street to the studio. They have true studio practices; true gallery representation; true museum shows."
From legends like Kesoglides (aka SJK 171) and Eric Haze, to contemporary talents such as Kenny Scharf and the Guerrilla Girls, "Beyond the Streets" is vast, all-inclusive, and a vivid depiction of graffiti's rise into the mainstream.
Here are 10 highlights from the show.
---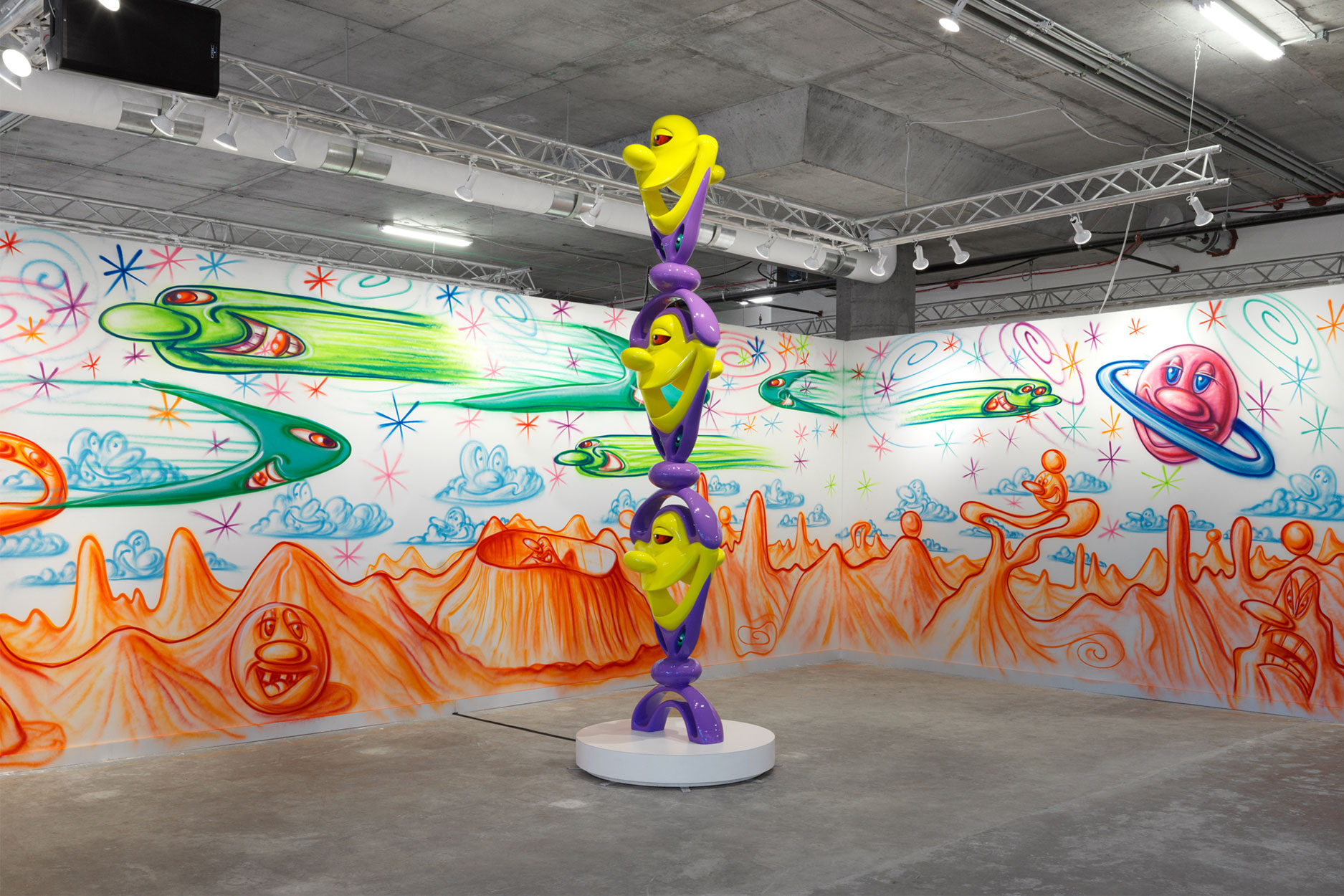 Kenny Scharf
Although he attended art school, Kenny Scharf has taken to the streets with a distinct animated style. He also goes beyond graffiti, experimenting with sculpture to create 3D versions of his wide-eyed, exaggerated characters—done so with a glossy finish and vibrant hues. Scharf's transition from can to clay is a great representation of how far street artists have come.
---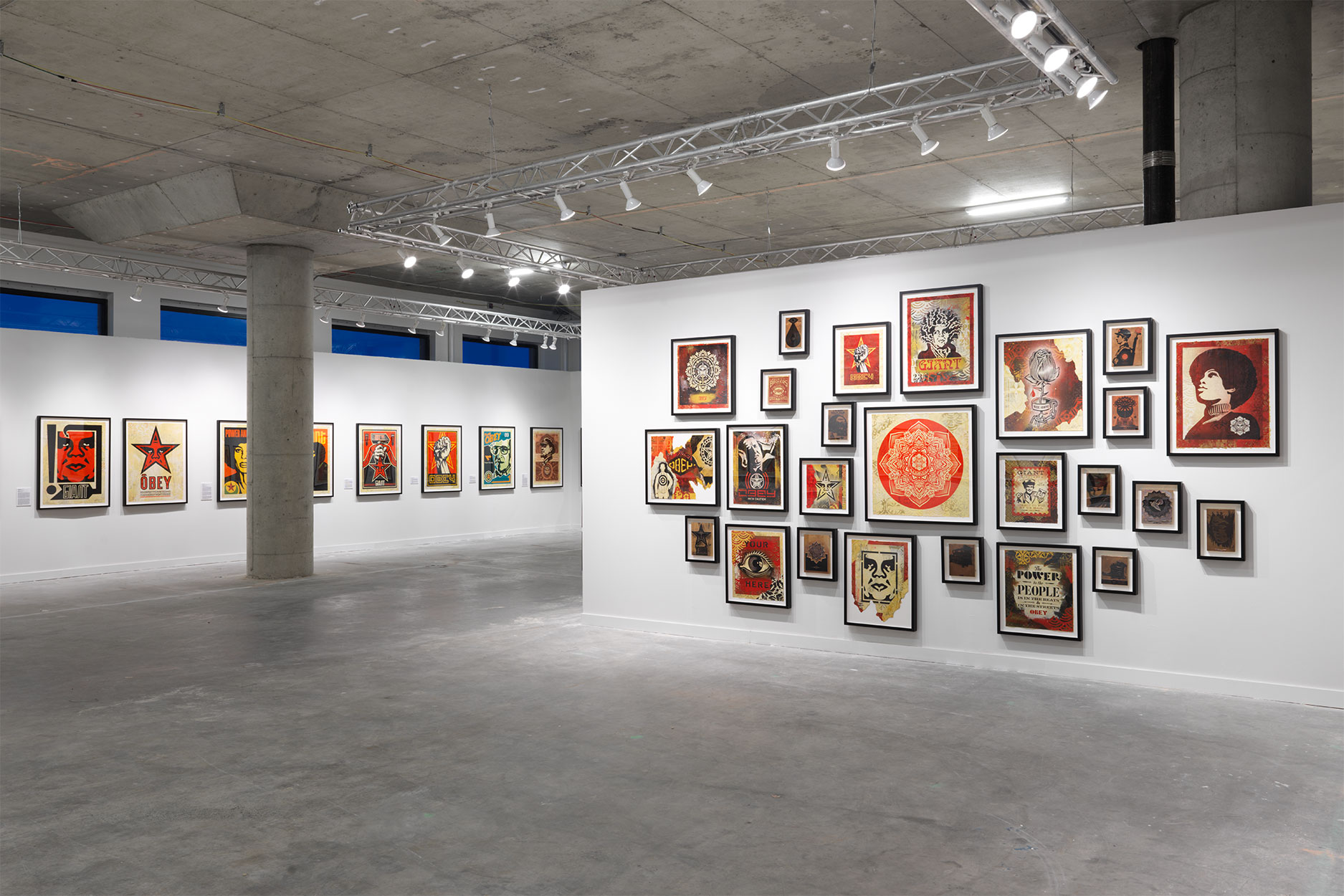 Shepard Fairey
Shepard Fairey falls more under the poster-art category. That said, the way he flattens and stylizes figures, rendering them in select saturated colors, is based on traditional graffiti. He also produces art that comments on social and political injustices, plastering them in public venues for all to see. All this was highlighted in "Facing The Giant: 3 Decades of Dissent," a sub-exhibition at "Beyond the Streets" that celebrates the 30th anniversary of Fairey's popular "Andre the Giant Has a Posse" street-art campaign.
---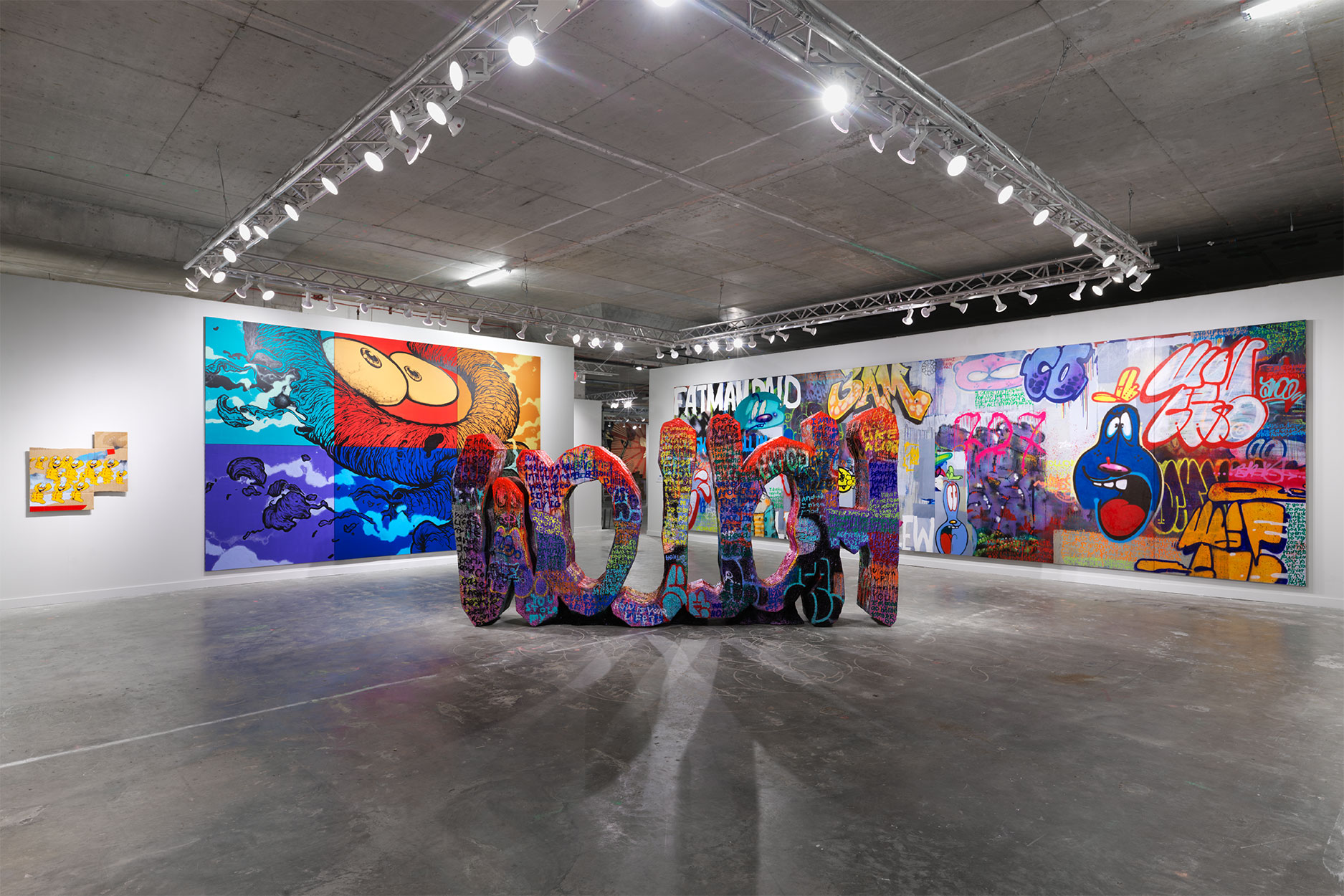 Haruki Murakami and Friends
Street art is not exclusive to American culture; Japanese artists have adopted the practice on their own terms, giving it new meaning as they paint canvases instead of walls. This space, featuring work by Murakami and his peers, contains an array of incredibly detailed, mesmerizing murals.
---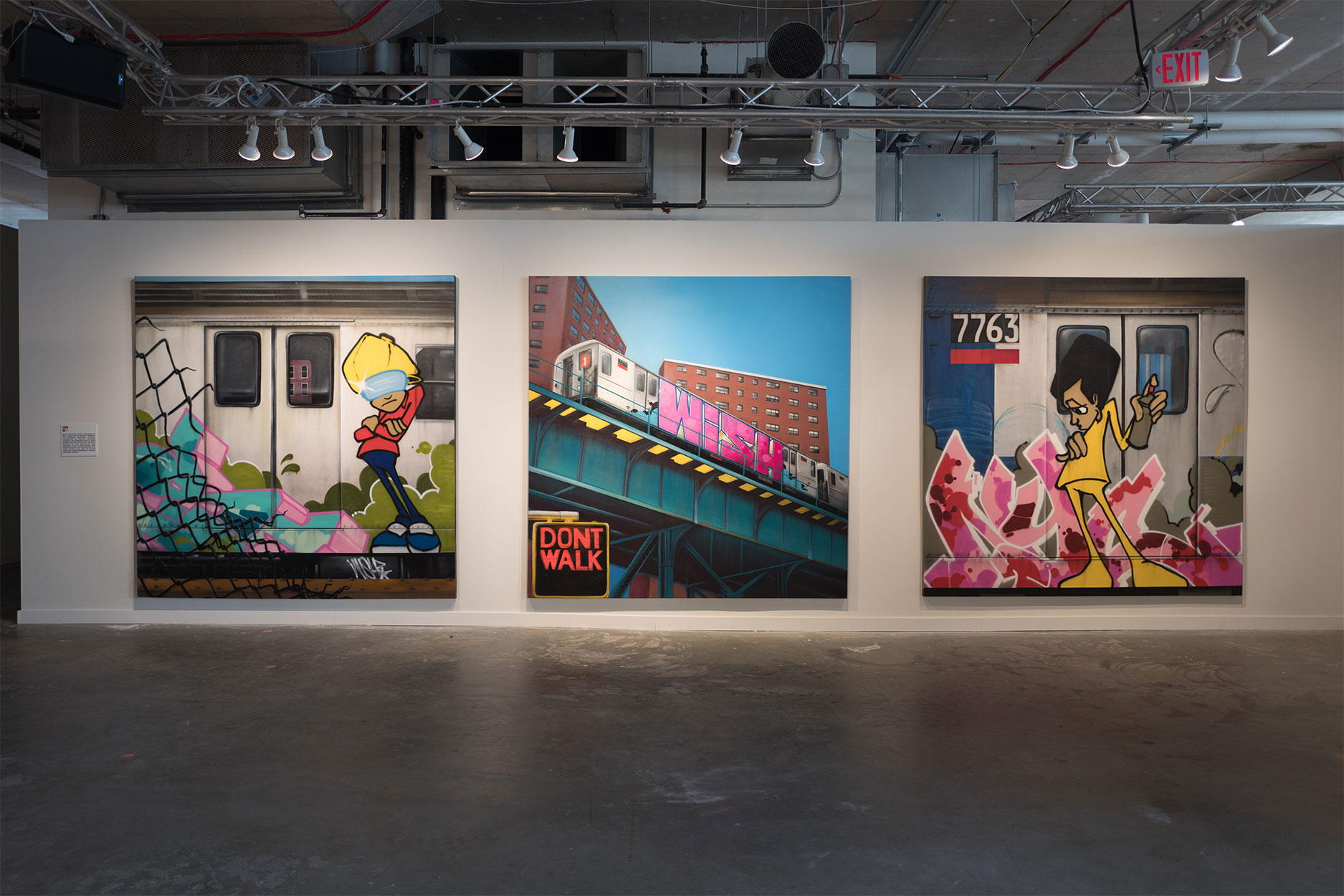 CES 
A child of the 1980s, Robert Provenzano (aka CES and WISH) was deeply influenced by pioneers of graffiti art, particularly the way they created graphic characters aerodynamic lettering. His pieces at the exhibition figuratively takes viewers to a time when New York was equals parts seedy and vibrant—a state symbolized by the graffiti–scrawled subway system.
---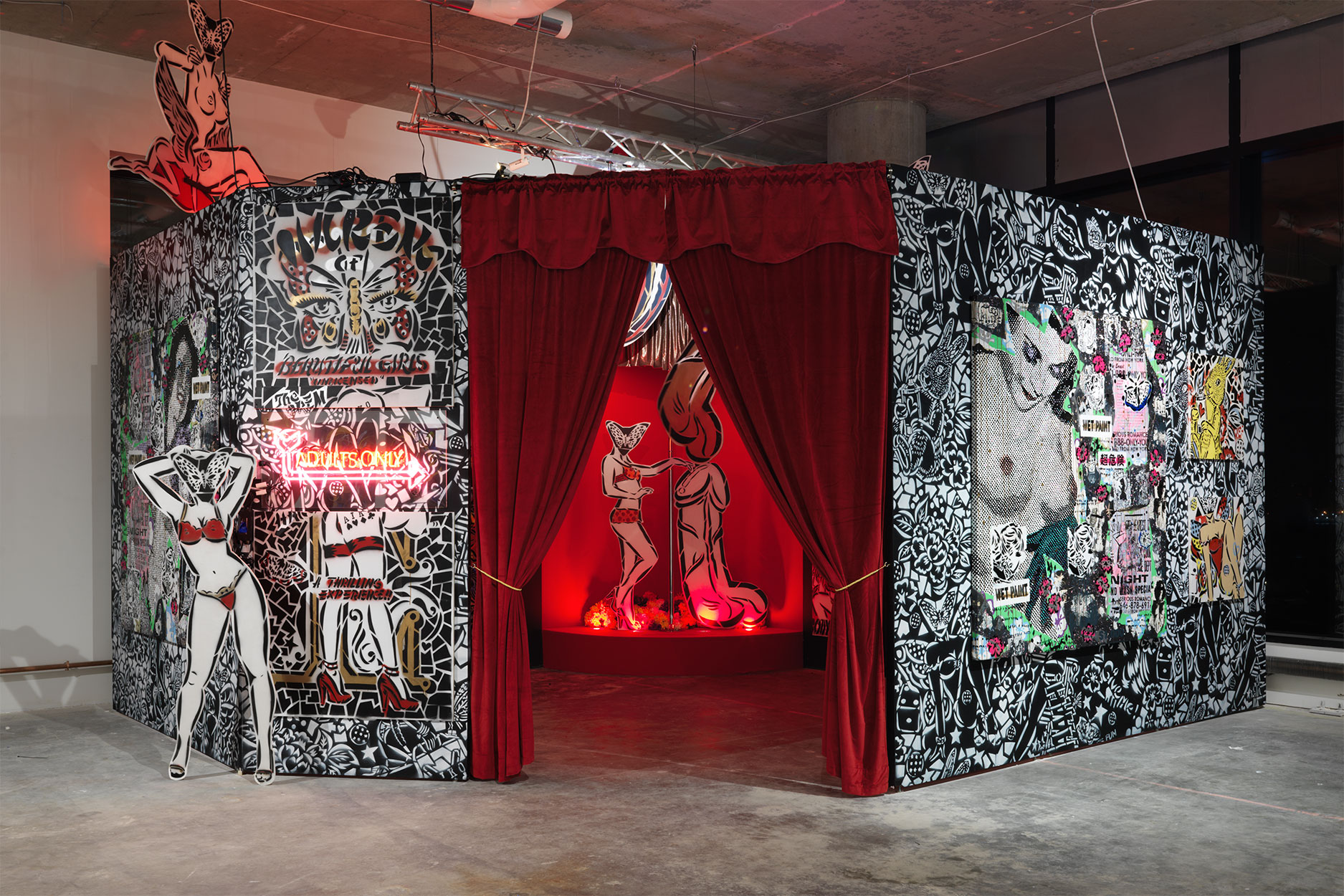 Lady Aiko
Western red-light district meets Japanese shunga in Lady Aiko immersive installation of wood cutouts and spray paint that explores themes of sex work, eroticism, and female empowerment. With a background in graphic design and film, the Tokyo-based artist has created a distinctive style that combines graffiti, advertising, Pop Art, and traditional Japanese aesthetics.
---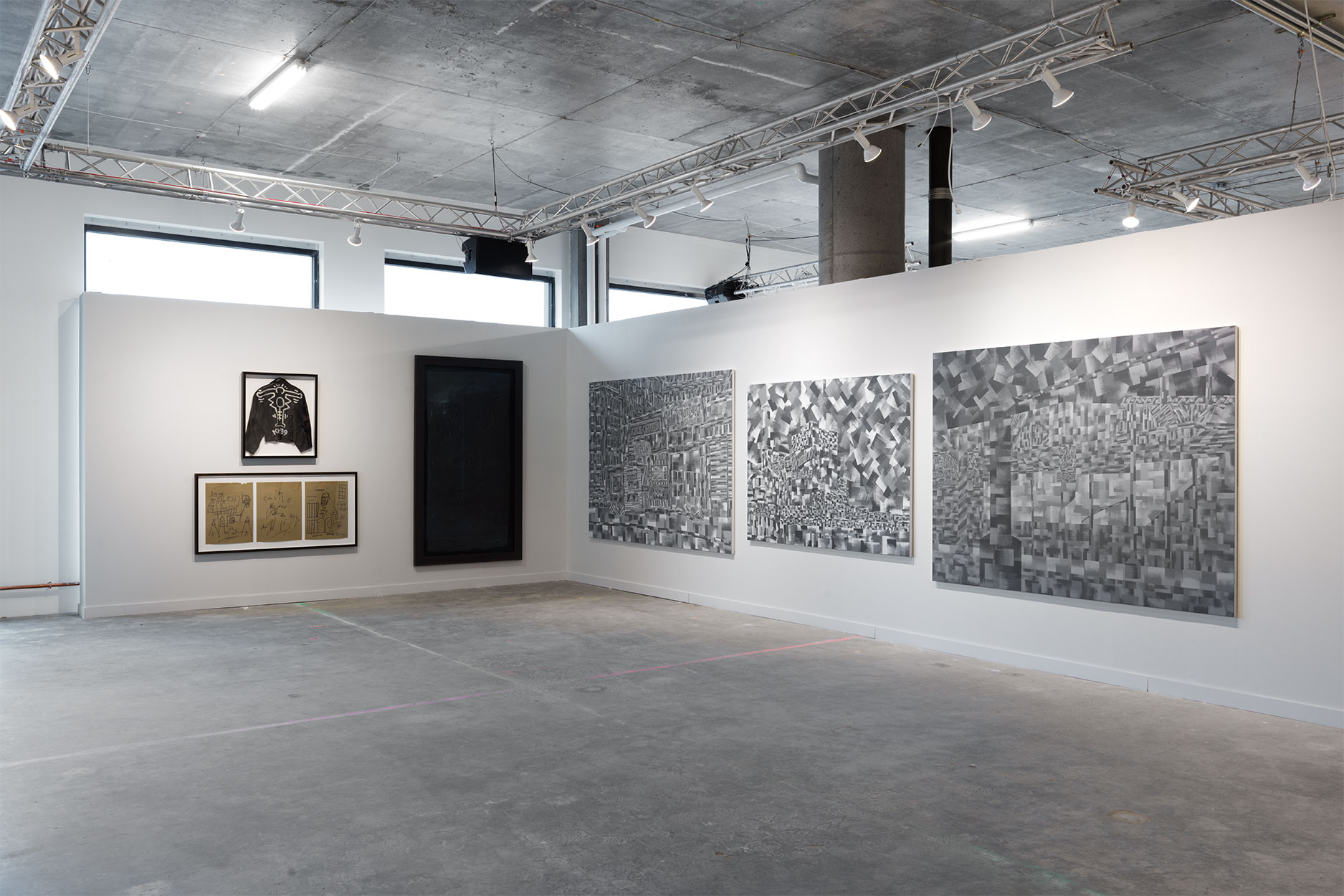 Having once created album art for the Beastie Boys and LL Cool J, Haze now lends his talents to brands such as Nike and Kiehl's. His presentation here shows how his work has segued into more traditional forms of art, presenting Braque-style paintings in shades of grey.
---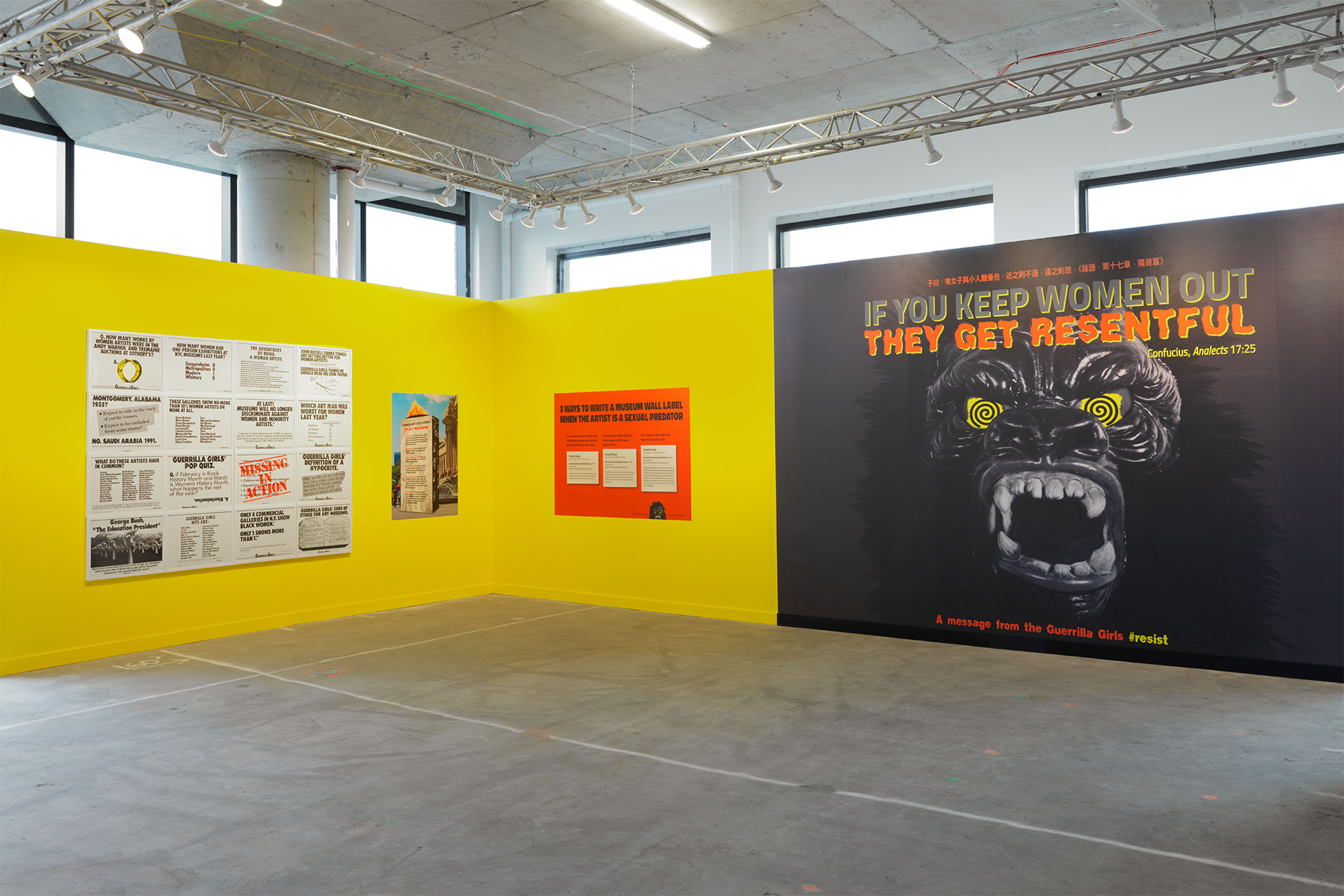 Critiquing the art world since 1985, the Guerrilla Girls utilize posters instead of spray paint to advocate for feminism and anti-discrimination. They keep themselves anonymous, allowing viewers to absorb their messages without the interference of identity.
---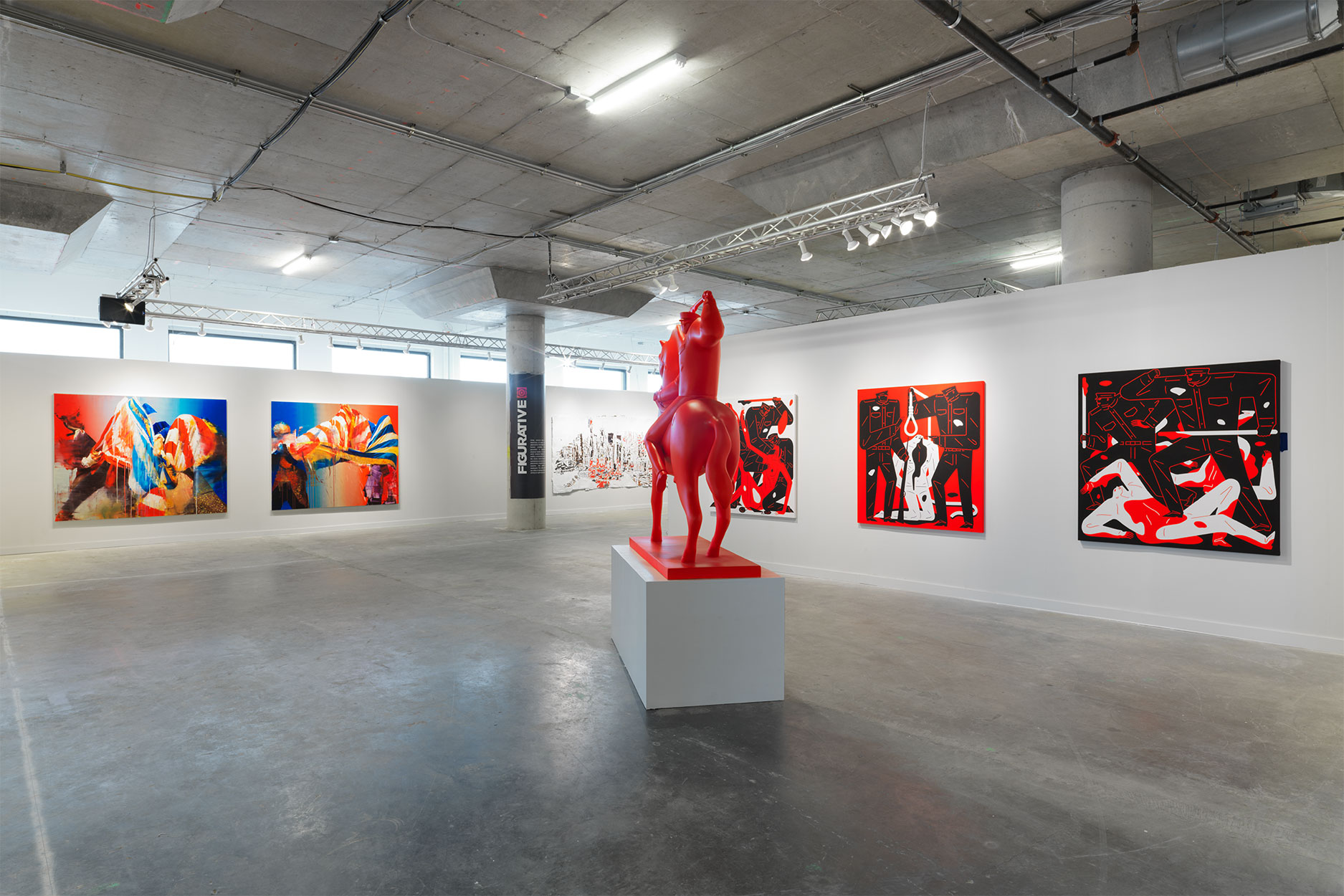 Evoking the powerful silhouettes of Aaron Douglas, Cleon Peterson's canvases are covered with militaristic, flattened figures rendered with an attention-grabbing color palette of red, black, and white. His relation to graffiti is not through his methods or medium, but his subject matter is overwhelmingly relevant, his paintings and sculptures portraying themes of extreme violence that grip contemporary society.
---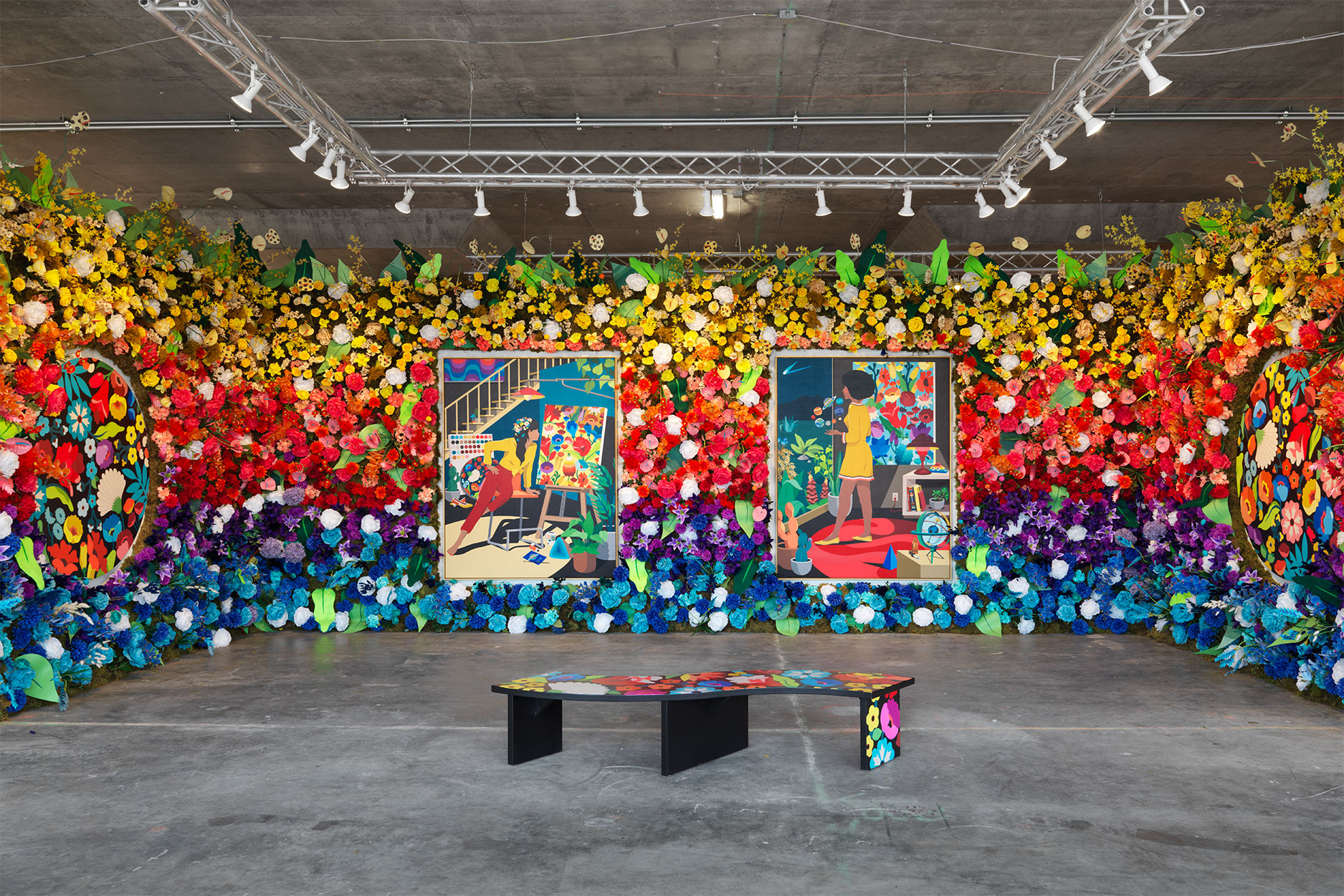 The husband-and-wife team cite graffiti, along with animation and mid-century illustration, as major influences in their work. Viewers are transported into a realm of fantasy, where striking canvases are surrounded by three rainbow, flower-covered surfaces. It's a celebration of color theory and perspective.
---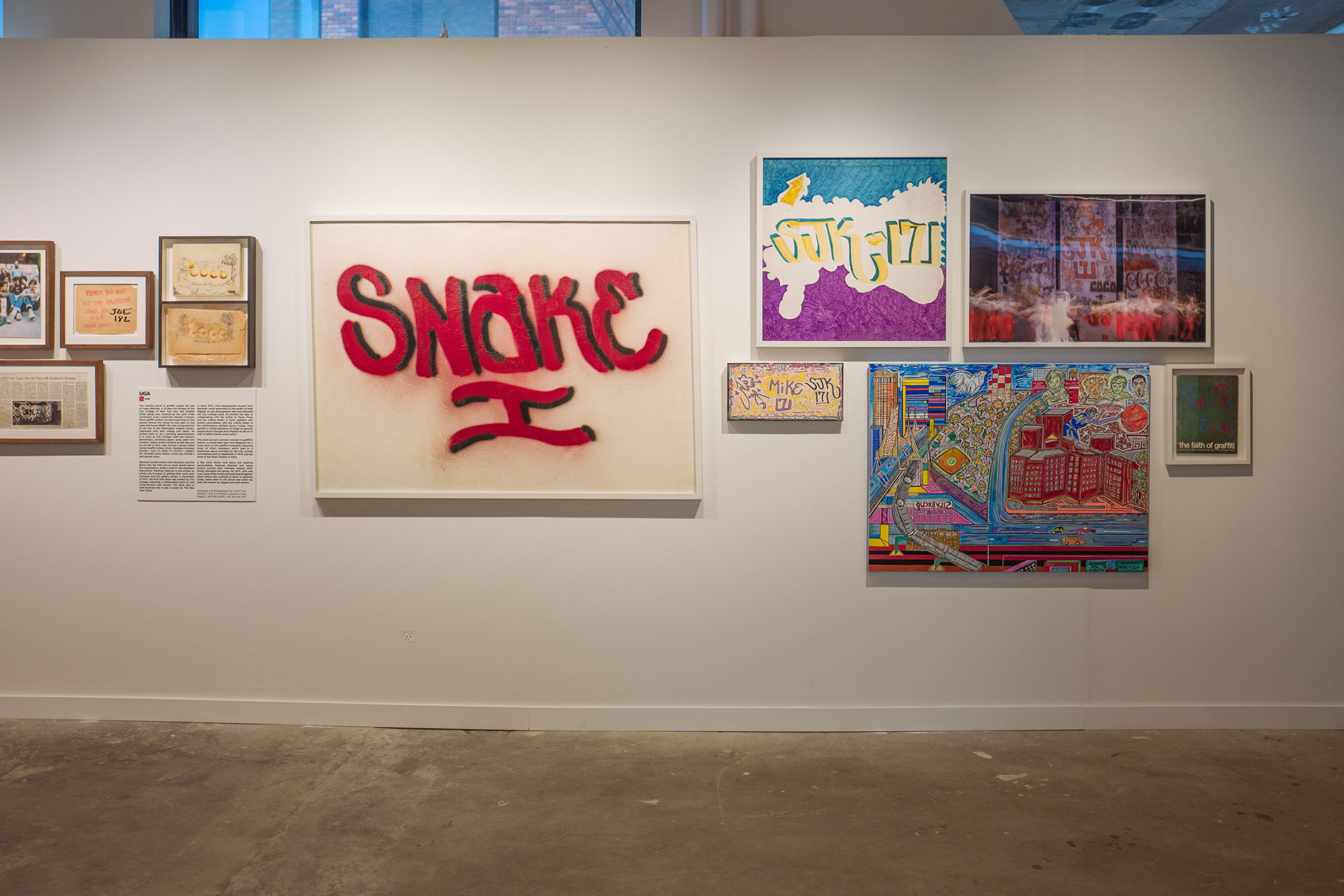 The late 1960s was unkind to these childhood pals: It was a time of political tension and personal loss. To let out their frustration, they grabbed cans of spray paint and started tagging their marks throughout New York City. Decades later, the pioneers have transformed themselves, displaying works that have truly gone beyond the streets.
---
Photos courtesy of Dan Bradica/Beyond the Streets.